Enhancing Soil & Crop
Sustainability in New Brunswick
NBSCIA participates in research with parties interested in accessing funding sources where applications must come from an agricultural producer associations.
Research activities involve either soils or crops as the main component of the project. Some of the on-going research activities are:
Evaluating mustard as a biofumigant
Improving on-farm forage quality and quantity
Establishing soil health benchmarks for New Brunswick
Evaluating rhodiola rosea cultivars for biomass and bioactive components
Evaluating in field soil variability
Evaluating carbon sequestration in sugarbushes and pastures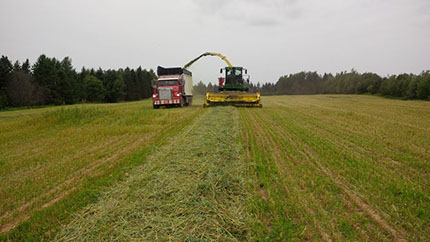 Several activities identify new varieties and hybrids that will improve yields of grain production systems practiced by New Brunswick producers.
Forage and other perennial crops trials will identity varieties with better winter survival as well as identifying other crops with potential in opening up new markets.
Regional cereal and oilseed variety evaluation trials
Regional silage and grain corn hybrid evaluation trials
What can NBSCIA do for your Association?
We are always on the lookout for research partners and we are also capable of administering research projects for other associations. We are looking to expand our research projects to include other sectors.